Just to update, I still have a long way to go before I can begin producing Episode 4. I know that making several sprites of characters would be so time consuming, but I didn't think it would be this quite long. I managed to complete a few so far for the purpose of the episode alone.
The first sprite set I finished is Nekketsu's principal from Kunio-kun special. He has only a few sprites which is enough for me to use. I don't need to make any more unless I decide to use him in a future episode, which may not be likely.

The second set that I completed is Mikoto, a new character that appears in the recent "Riki Densetsu" game for the 3DS. He serves as Shinji's lackey. It's worth noting his design is based on the grunts featured in the original Kunio-kun game, just with a change in color. His movesets are pretty much basic.

Mikoto's sprite set will be the basis for all the grunts appearing in Episode 4. I decided to limit the number of grunts to two this time instead of 6 from the previous episodes to save time, though that would mean seeing some 'clones' in the finished product. Below is the first grunt that I'll be working on.

I also successfully converted Shinji's 3DS sprite to NES dimensions as featured below. Will work on his movesets once all other sprites are complete, which may be as many as Kunio's.
Another sprite set I need to work on in a future date is Sugata's father, who is a police officer. Here is a draft sprite of him below, though I may decide to stick with that design unless I can think of a better one. His facial design is based on the boxer from the Ring King game.

I also completed 2 scenes for the episode. The first is a modified locker scene from Kakutou Densetsu: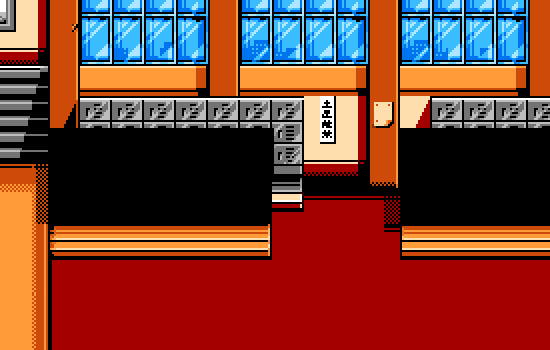 The other is the background from the main title screen of the same game. I changed the grass color to grey to give the look of concrete so the scene is more like the harbor from Kunio-kun, which will serve as the scene where Shinji will make an appearance.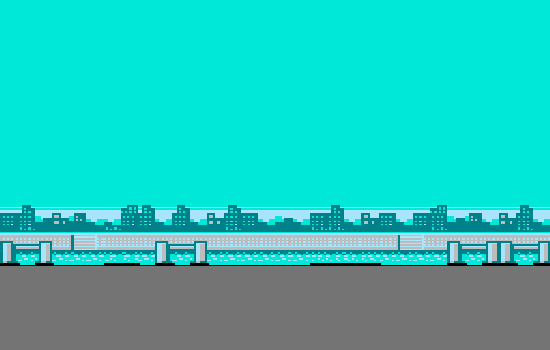 That's it so far and still plenty to go, including the vehicles, more background characters, and the dreaded bike scene. I'll update whenever I get the chance.